Overview of EVLT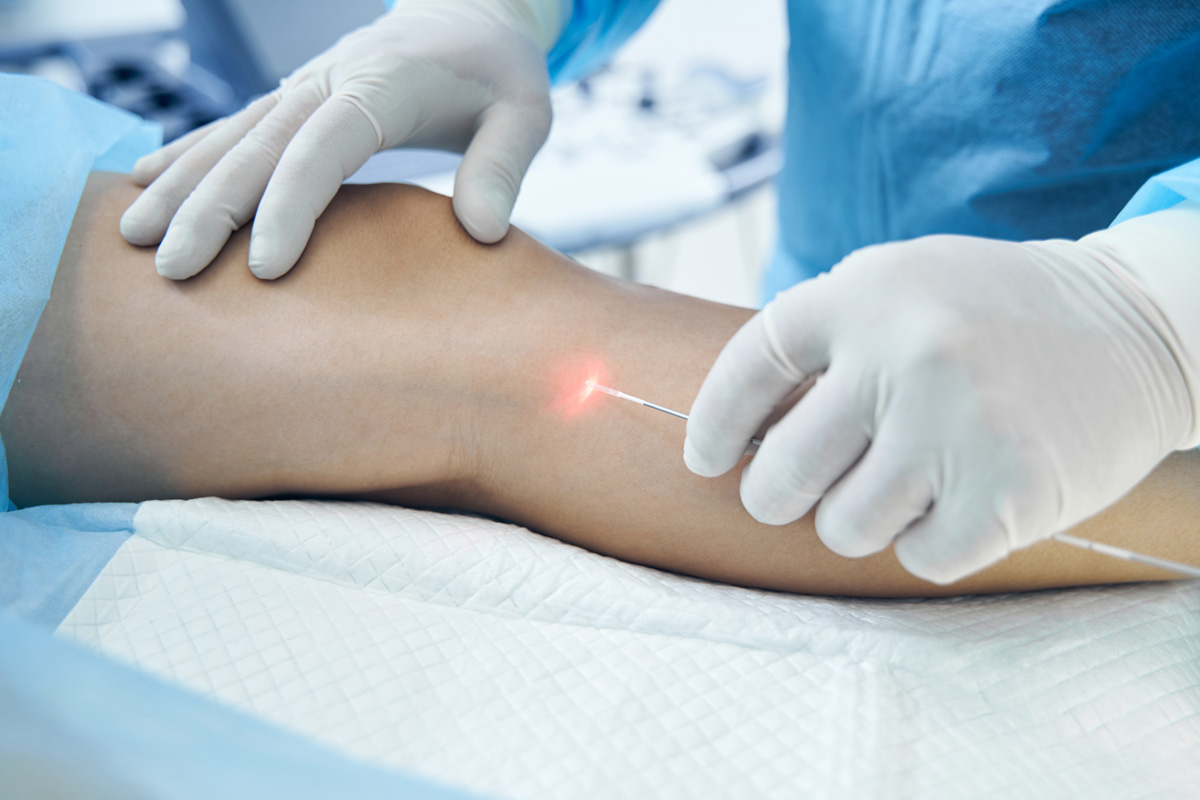 With over 40 million people in the United States affected by varicose veins, modern technology has advanced well enough to provide people with a quick relief option; Laser therapy, or more specifically, Endovenous Laser Therapy.
At El Paso Varicose Vein Laser Clinic, we specialize in treating patients who are experiencing symptoms such as pain, heaviness, cramping, swelling, restlessness, and skin color changes with leg ulcers.  These are the symptoms and consequences associated with varicose veins. Contact us online or call (915) 577-0121 to learn more about why EVLT may be the treatment plan for you.
What is Endovenous Laser Therapy?
Endovenous Laser Therapy, or EVLT, is a minimally-invasive procedure that utilizes laser energy to target swollen, bulging veins. It is 97% effective in treating venous reflux, the underlying cause of varicose veins. These symptoms are a result of venous reflux in the deeper veins, called the greater and lesser saphenous veins.
With this procedure, an El Paso vascular surgeon will use laser energy to treat and shrink the affected vein. This creates scar tissues within the vessel, producing a seal that allows blood to flow through healthy veins, re-establishing proper flow of blood.
Why You May Need EVLT
For patients struggling with varicose veins, it is more than feeling self-conscious about the look of them. This type of vein issue can lead to a range of symptoms, including pain, swelling, heaviness, and cramping of your legs. Without proper care and monitoring, varicose veins can lead to larger complications, such as skin ulcers or blood clots.
If you find your experience with varicose veins has led to discomfort and has affected your quality of life, EVLT is an option worth considering.
Benefits of Laser Therapy
One of the biggest advantages of EVLT treatment is that it is a minimally invasive procedure that can be performed under local anesthesia in your El Paso vein clinic. The procedure typically takes 15 to 20 minutes, with patients experiencing an almost immediate relief of their symptoms. With a success rate of 97%, patients can find improved appearances and pain relief by improving the blood flow and reducing pressure within the affected veins/legs.  EVLT treatments have been tried and proven for over 30 years and are still considered the gold standard of care.
Similarly, an EVLT procedure has a quick recovery time. At The El Paso Varicose Veins Laser Clinic, patients are sent home on the day of the procedure, free to resume normal activities. Patients are provided with a post-procedure care sheet and a 24-hour contact number.
What to Expect from EVLT
After consulting with your Vascular surgeon about whether EVLT is the right decision for you, your procedure will be scheduled on a walk-in walk-out basis, and you will be able to resume all your normal activities. Ultrasound technology is also used to help guide your vascular surgeon so they know which veins to target. As the laser energy treats the length of the diseased vein, it will close up and eventually shrink.
Recovery
After an EVLT procedure, your vascular surgeon will walk you through a post-treatment plan. The treated leg will be cleaned, and pressure and stocking dressings will be applied. While the treatment itself is short and minimally invasive, it is common for patients to experience mild pain and discomfort from potential bruising, tightness, and/or numbness. Usage of any NSAID, such as Ibuprofen, Motrin, or Advil, is suggested to avoid any pain and reduce swelling.
Get Treatment at the El Paso Varicose Veins Laser Clinic Today!
With over 20 years of experience, our well-trained certified El Paso staff are determined to get you feeling like yourself again. In less than an hour, our treatments/ procedures can minimize the pain and discomfort varicose veins have brought into your life. Contact us online or call (915) 577-0121 for a free initial consultation today.